Fix MDB File with user friendly MS Access Recovery Tool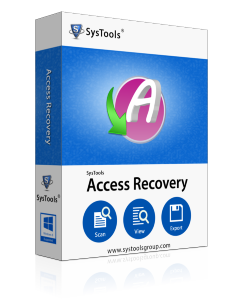 Tool is developed by our Programming experts as they included the most innovative and high technology features to make tool user friendly and efficient to fix mdb file. When user looking for perfect solution to repair corrupted access file, then they can use our tool as it is completely effective in recovery of data from corrupted access file
User can freely download access recovery tool, just by clicking to the download button that is shown above. To Access all the features of Tool user have to purchase the complete license version, to purchase tool click the purchase button
Features Responsible for the Success of MS Access Recovery Tool:

There are number of features that are responsible for the success of tool, these features make it best and different from other software that are available in the market.
Repair Corrupted Access File: Minutely scan and fix mdb file errors to make Access database function in proper manner
Recover Access Database Items: Items such as tables, macros and other items of access database are recovered by software even if these items were deleted by user mistaken or due to error in database
Preview Items: Recovered items after fixing corrupted access database, can be easily previewed by user to check recovered data accuracy.
Export Database: User can export database file to local system with complete security and safety as software intact the database content under complete protection from corruption
Reasons to purchase MS Access Recovery Tool

Most of the times user is unable to locate the proper product because of number of non-trustful companies, those offer software at cheap rate and on purchasing software from those company user found himself cheated as their recovery software is in-capable to recover the files, due to all such reasons user feels fear to purchase software but now user have not to worry as our company provides complete trustful software with recovery of access corrupted data successfully without any harm to the file.
Things that user should keep in mind before purchasing software
Don't Get Carried Away by Fake Boasts: User can found many products assuring to repair Access database files accurately and safely without any loss of information. Most of the users found them complete genuine supplier of the product and carried away by them and get cheated as they provide software that is completely useless. To check the assurity of the product speed time in reading details about the tools and do proper analysis.
Test the Demo version of Product: Before purchasing any tool, user must test the demo version of that tool to verify the features that are explained about software are working or worthless. By testing tool user can easily judge that tool is perfect for its use or not. Demo version clears most of the important things about the product, which help user to know about the performance of tool.
Demand graph of Access Recovery Tool

Our tool is among the most demand software in the market. As our tool provides the features that are needed to perfectly fix mdb or accdb access database without any harm to the content of file.From the release of software in the market, graph of Tool demand is regularly increasing among the users as they get the tool for which they are looking from years at effective rate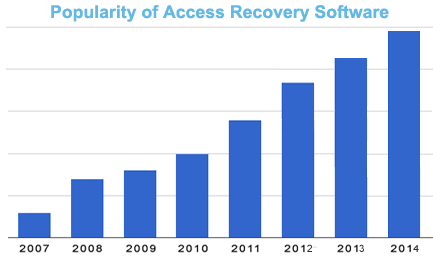 Supported Versions
All versions of Microsoft Window is supported, Tool can be easily installed and access in MS Window 8, Window 7, Window Vista, Window Xp and others Window versions. Software is compatible with MS Access Application all versions that are released in the market. MS Access 2013, 2010 ,2007 and previous versions are supported by tool
To see the working of software, user can check the screenshots for the working of tool and can also check the video for its working